27 Products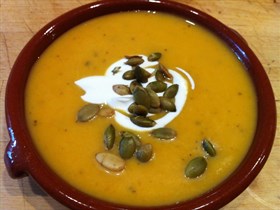 SOUP- Roasted Butternut Squash Soup w/Sage & Apple
Truly Scrumptious
Rich and creamy, this soup is rich in fiber and beta carotene. Delivered with a small side of toasted pumpkin seeds to swirl into the soup- try it also with a dollop of sour cream. FROZEN-( local butternut squash, onions, local apples when in season, sage from my garden, chicken stock, roasted pumpkin seeds, splash of light cream, s&p, evoo)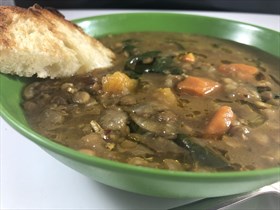 SOUP- Winter Lentil & Vegetable
Truly Scrumptious
SOLD FROZEN. A hearty detox soup to start the New Year off well. Fibre rich made with green lentils, split yellow peas, onions, carrots, celery and butternut squash.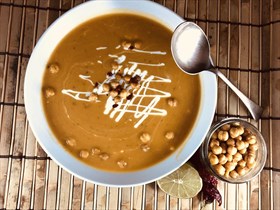 SOUP-Coconut Curry Sweet Potato Bisque
Truly Scrumptious
SOLD FROZEN. A smooth, creamy soup with just the right amount of Thai red curry paste, lemongrass and ginger, it is made with local sweet potatoes and vegetable stock and coconut milk. Eat by the bowl or use as a sauce for chicken or seafood over rice.