SOUP-Golden Summer Squash Soup with Mint Pistou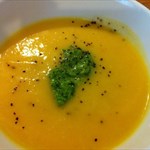 Category: Prepared Foods
A delicious summer soup which can be served chilled or hot. A swirl of bright mint pistou highlights the fresh flavors.

Soup is made with local golden squash ( Deer Run) , onions, carrot, a small amount of sweet potato, organic vegetable stock, garlic.
Mint pistou made with local mint and parsley, scallions, evoo, salt.
Tags
Gluten Free
Corn Free
Dairy Free
Local
On Sale
Vegan
Vegetarian
Available At These Locations
Bon Air
|
HOME DELIVERY
|
SAINT STEPHEN'S FARMERS MARKET
Purchase
2.5 % Virginia Food Tax